soft/WALL/docs:

Online screening programme
21 May - 30 May 2021
Land/Landless

is a selection of documentaries from Southeast Asia and beyond, each excavating the fictile notions of land and site. These films articulate the striated processes of confiscation and contestation, examining scales of political action across geocultural contexts—from landless workers in Brazil to the evicted in Cambodia.

The five selected films include Camila Freitas's

Chão

(2019, Brazil), Tan Biyun's

Citizen Hustler

(2020, Singapore), Kavich Neang's

Last Night I Saw You Smiling

(2019, Cambodia/France), Nontawat Numbenchapol's

Soil Without Land

(2019, Thailand), and Lau Kek-Huat's

The Tree Remembers

(2019, Taiwan/Malaysia).

All films are only available to viewers in Singapore, except

The Tree Remembers

which is also available to viewers in Malaysia.

Accompanying the film programme is a short essay by Huiying Ng,

The visible heat of lands on fire

.

Still above from Nontawat Numbenchapol's Soil Without Land (2019).
Heading typeface: Avara by Raphaël Bastide, Wei Huang, Lucas Le Bihan, Walid Bouchouchi, and Jérémy Landes (Velvetyne Type Foundry)

CHÃO (LANDLESS)
dir. Camila Freitas / Brazil / 2019 / 110 min / Portugese
Film was online from 21 May - 30 May 2021. Thanks for joining us!

Only available to viewers in Singapore.

Synopsis

Over a period of four years, Camila Freitas documented the lives of a group of landless workers in the Brazilian state of Goiás. Since 2015, the workers have occupied a portion of a factory site and demanded land reform.

Chão

provides insights into the group's everyday routine, which is divided up between tilling the land, political activism and talk of what a better future might look like. The film thus delves into the microstructures of local political action while also demonstrating just how dependent the Landless Workers Movement is on Brazilian politics, global capital and the agricultural industry. Occupying a space between frank realism and potent atmospherics that draw their power from poetic digressions, such as deliberately exaggerated moments on the soundtrack, impressionistic close-ups and cinematographic micro-narrations,

Chão

documents life in the resistance, where hope can sometimes seem like the only thing capable of countering the realities of the world. It was only recently that Jair Bolsonaro, the new president of Brazil, added the landless to the list of enemies of the nation and called on landowners to take up arms to defend their property.

Director's bio

Camila Freitas was born in 1983, in Lauro de Freitas, Bahia, Brazil. She studied Film at the University of Brasilia (UnB) from 2001 to 2004, and at the Universidade Federal Fluminense (UFF), in Rio, from 2004 to 2007. From 2007 to 2008, she pursued her studies at the ENS Louis Lumière School, specialising in direction of photography. She lived and worked in Paris as a camera assistant and cinematographer until 2013.

Chão

is her first feature-length film.

CITIZEN HUSTLER (好公民)
dir. Tan Biyun / Singapore / 2020 / 72 min / Chinese, Hokkien, Teochew, English
Film was online from 21 May - 30 May 2021. Thanks for joining us!

Only available to viewers in Singapore.

Synopsis

The forced closure of the Sungei Road flea market in 2017 leaves evicted hawkers like Mr Chan Fook Seng and Madam Seah Siok Thiang, in their 60s and with a variety of ailments, with little recourse. For them, negotiating is imperative to their survival—beyond their informal trade. It is also the way they wend their way through the thicket of bureaucracy to access financial aid, never losing their sense of humour or their sight on bettering their chances in life.

Joining them is director Tan Biyun, who wears several hats in the film: a listener in warm interactions, an aide to their efforts in securing financial assistance, while amplifying moments demanding action. In this irreverent collaboration, the film reveals life lived in the margins of affluent Singapore to question the anti-welfarist stance Singapore has adopted and the resulting disparities of lived experience.

Director's bio

Tan Biyun is an artist and film maker whose works engage the audience to interrogate our lived social realities to reimagine alternative visions of societies. She is also an educator, and conducts workshops with her works.

Citizen Hustler

is her directorial debut. The film received the Tan Ean Kiam Foundation-SGIFF Southeast Asian-Documentary (SEA-DOC) Grant 2019.

LAST NIGHT I SAW YOU SMILING (យប់មិញបងឃើញអូនញញឹម)
dir. Kavich Neang / Cambodia, France / 2019 / 77 min / Khmer
Film was online from 21 May - 30 May 2021. Thanks for joining us!

Only available to viewers in Singapore.

Synopsis

"We're used to seeing a house for its roof, windows, and walls. But in the end, as we move out of here, it breaks my heart." Filmmaker Kavich Neang's father is one of the hundreds of residents who must leave the iconic White Building in Phnom Penh. This housing block bore witness to a tremendous series of events: the young nation's Golden Age; a traumatic breakdown under a radical regime; decades of cultural revival centered within its walls; and, the rapid pace of capitalist development that would ultimately lead to its demise. Now the once radiant walls are grey and damaged. Neang, born here in 1987 and raised inside, once dreamed of shooting a fiction film here, but reality overtook his plan. It's now the location for his first full-length documentary. When demolition comes, it's all just a memory.

Director's bio

Kavich Neang (director and cinematographer) was born in 1987 and raised in Phnom Penh's landmark White Building. His first two shorts were documentaries produced by Rithy Panh:

A Scale Boy

(2011), and

Where I Go

(2013). In 2013, he joined Busan's Asian Film Academy, and in 2014, he co-founded Anti-Archive. In 2015, he directed two short fictions,

Three Wheels

(premiere: Busan), and

Goodbye Phnom Penh

. In 2018, his short fiction,

New Land Broken Road

, premiered in Singapore. Kavich has joined Talents Tokyo, Visions du Reel's Docs-in-Progress, and Cannes Cinéfondation's Residency. In 2019, his full-length documentary

Last Night I Saw You Smiling

won the NETPAC Award at IFFR, the Special Jury Prize at Jeonju, Best Image at Janela de Cinema and two awards at Tokyo FilmEx. He is now completing his first narrative feature,

White Building

, due to premiere in 2021.

SOIL WITHOUT LAND (ดินไร้แดน)
dir. Nontawat Numbenchapol / Thailand / 2019 / 80 min / Shan, Thai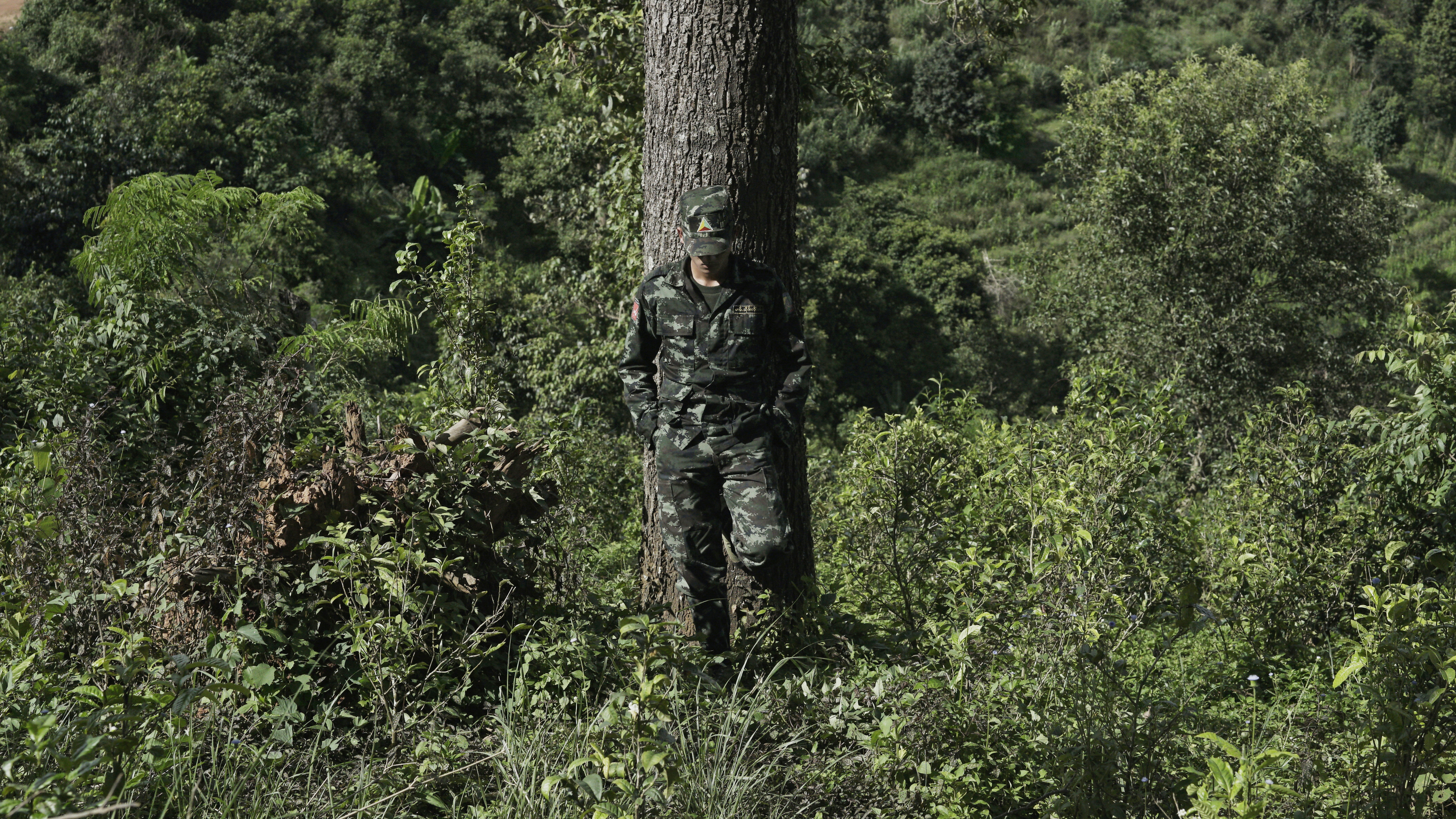 Film was online from 21 May - 30 May 2021. Thanks for joining us!

Only available to viewers in Singapore.

Synopsis

For over 50 years, a civil war has waged between the Shan, Burma's largest ethnic minority group, and the Burmese military. As a small child, Jai Sang Lod, his family, and many other Shan families fled to a Shan State Army (SSA) governed village sitting between the borders of Burma and Northern Thailand. Living in a disputed land, undefined as a state, Sang Lod and his family were stuck in the village without any ID or passport.

As the village authority, the SSA ordered mandatory military training for all young men. Leaving his family behind, Jai Sang Lod must learn to be a soldier with a lifetime duty to fight for Shan sovereignty and liberation from the Burmese military.

Under the burning sun, the training officer lectures 100 young men on manhood and patriotism. Sang Lod trains alongside his comrades, with each command slowly molding these boys from their peaceful young selves to rifle-wielding uniformed men.

Director's bio

Nontawat Numbenchapol was born in 1983 and grew up in Bangkok. He is a Thai film director and television screenwriter, who is widely recognized for his documentary work. He graduated from the Visual Communication Design Department, Faculty of Art and Design, Rangsit University.

In 2013, Numbenchapol's debut documentary film BOUNDARY received the Young Filmmaker award from the Bangkok Critics Assembly and screened at Berlinale Forum, IDFA, and YamagataIDFF. His second documentary BY THE RIVER received the Special Mention award from Locarno.

In 2016 Numbenchapol's hybrid docu-fiction #BKKY premiered at the Busan before receiving the Jury Award for best feature-length film from Lesbisch Schwule Filmtage Hamburg, Germany. In 2016 Numbenchapol began research on the Thai-Myanmar border on the Shan ethnic minority, resulting in two film projects. SOIL WITHOUT LAND is his fourth feature-length documentary which premiered at Visions du Reel Film Festival 2019. DOI BOY, currently in development, is his first fiction feature.

THE TREE REMEMBERS (還有一些樹)
dir. Lau Kek-Huat / Taiwan, Malaysia / 2019 / 89 min / Bahasa Melayu, English, Chinese, Orang Asli


Film was online from 21 May - 30 May 2021. Thanks for joining us!
Only available to viewers in Singapore and Malaysia.
Synopsis
Malaysia-born, Taiwan-based filmmaker Lau Kek-Huat returns with a story of the Malayan Peninsula. This time, he explores the Orang Asli's dwindling rights and the 1969 racial riots.
Director's bio
Writer and director Lau Kek-Huat often addresses ethnic issues in his work. A recipient of several awards including the Audience Choice Award at the 27th Singapore International Film Festival in 2016, his previous films include
Ten Years Taiwan
(2018) and
Absent Without Leave
(2016).